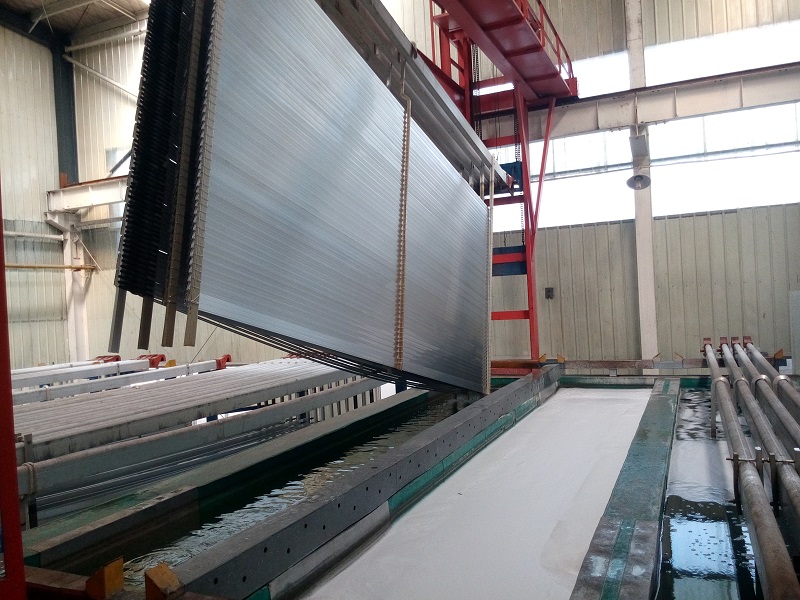 ‍‍‍‍Extrusion Materials Inspection‍‍
This verifies that the right type of aluminum billets are used for your extrusions. Some of the alloys specified by the International Alloy Designation System used for aluminum extrusions are 6063, 6463, 6005A, and 6061. Donrex covers all aluminum alloy standards recognized in various countries.
As important as the materials is ensuring that extrusion dies follow buyer's designs and specifications. Extrusion dies are evaluated in a variety of areas including hardness, dimensional measurements, bearing lengths and squareness, clearance, and support for thin parts. If you are not sure which characteristics you need to address for your type of extrusion product, Donrex will be able to help you.
Color, stabilizers, flame retardants, finishing materials, and approved fillers are just some of the additives used for extruded products. It is important that the relevant details are established and communicated effectively to the supplier before production starts. It is not uncommon that some suppliers scrimp on these high value materials to trim down costs so it is important to identify whether this pre-production inspection protocol is necessary for your product type.
Extrusion Visual Inspection
Black specks, surface and internal cracking, surface lines, warps, uneven wall thickness, lumps, sharp edges, and uneven coatings are just some of the critical areas to be checked on this protocol. It is important that these are established by the buyer to serve as guide for both supplier and inspector. If you are not completely sure which defects to include, it may help if your supplier could provide samples as basis in establishing the pass and fail criteria for this process.
There are various ways in order to verify color and glossiness of extruded profiles. The most common is by comparing finished products with approved samples or with agreed values on the Pantone color chart. If your requirement is more stringent, Donrex may use a spectrophotometer and a glossmeter. Checking of color and glossiness is done under simulated lighting conditions for accuracy.
Dimensional Inspection
Wall thickness, sizes and locations of holes, curvature, length, width, and mitered joints dimensions are just some of the measurements critical to extruded profiles. If your market include the aerospace sector, the automotive industry, or the medical industry, it is extremely important to verify that these parts comply with industry standard tolerances. Donrex covers CAD design which you may use in establishing the geometric dimensioning and tolerancing for your product.
Coating and Finishing Check
This evaluates the quality of coating and finishing done in extruded profiles. Some of the properties checked here are coating thickness, evenness of coating, edge coating quality, surface reflectance, and surface smoothness. Donrex provide cross cut test and pencil hardness test for customers to evaluate surface adhensive ability and surface anti-scratch ability.
Weight and Density Check
This verifies that product does not exceed the industry limits on weight and density. Aluminum extrusions are favored for their lightweight property so it is important that these parameters are checked.
Extrusion Performance Inspection
Tensile Test
This procedure verifies that extruded profiles do not exceed industry limits on ultimate tensile strength, yield tensile strength, and percentage of elongation.
Weldability Check
It is very common that extruded profiles are welded to other metals to form new products. Since weldability is more often established qualitatively, it is important that pass or fail parameters applicable to your product are agreed upon beforehand.
Workability Check
Verify that extrusions may be worked to produce other products using processes specified by the buyer such as machining, threading, grinding, brazing, etc.
Corrosion Resistance
This procedure subjects the product to the appropriate test methods to determine its ability to resist corrosion. The Salt Spray Test and Humidity Resistance Test are among the common methods in evaluating corrosion resistance.
Flammability Testing
This procedure mostly applies to flammable extrusions such as rubber and plastic as well as metal profiles that have received flammable coatings. It is important that rubber and plastic extrusions pass the necessary standards on flammability to help ensure the safety of end-users against fire hazards.
Hardness Test
This verifies that aluminum and other extruded profiles possess the required hardness specific to product type. Hardness is a critical property used to determine the suitability of aluminum extrusions for their standard applications.
Weathering Resistance Testing
This protocol verifies that extruded profile is suitable for outdoor applications. Common testing procedures applicable to aluminum extrusions include Accelerated Exposure and Outdoor Exposure.
Abrasion Resistance
This testing procedure checks that the abrasion coefficient value of coating for extrusions does not fall below standard limits.
Chemical Resistance
This inspection procedure subjects the extruded profiles to the appropriate standard tests to determine their ability to resist chemical decomposition. Common tests used in aluminum extrusions include:
muriatic resistance
nitric acid resistance
mortar resistance
window cleaner resistance, and detergent resistance.
The above-mentioned are just very few of the extrusions inspection processes that Donrex covers. If you are interested to know more of the inspection protocols applicable to your type of extrusion product, please do not hesitate to contact us for more information.
‍‍